Fixing APC PowerChute Personal Edition Not Detecting UPS on Windows 10
One of the benefits of my APC Back-Ups device was the ability to attach it to my computer, so it can safely shut down in the event of a power outage when the batteries get low in the UPS. So, I figure with the season of rain, wind, and (maybe tornados), it was probably a good idea to get that setup.
After downloading APC PowerChute Personal Edition, I kept running into an error saying "UPS could not be detected."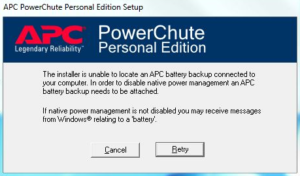 What made this error even more annoying was the fact that my UPS was indeed detected, but opening up Device Manager, I found that under the Batteries category, "APC UPS" had an exclamation over it, indicating the driver or device had an error. Attempting to update the driver failed.
So how do you get past this? Here are the steps:
Download the latest version of PowerChute Personal Edition.
If you do not have 7-Zip installed on your computer, download and install 7-Zip.
Right-click the EXE download from the PowerChute website starting with PCPE to open the context menu.
In the context menu, hover over 7-zip, and then click open archive. This should open the EXE as an archive.
Look for the files ApcUps.inf and apc_pcp1.cat and drag those to your desktop.
Now open Device Manager. You can do this by typing device manager in the Windows 10 search bar.
In Device Manager, expand the Batteries category.
Right-click the APC UPS device and click Browse my computer for drivers.
Click the browse button and select your desktop (or wherever you dragged those two files).
Click Next.
It should detect the drivers and install them for the APC UPS and the exclamation on the icon should go away. You may need to restart.
Now, install PowerChute Personal Edition, and it should install without errors.
It would be great for APC to submit their drivers to Microsoft so they can be detectable through Windows Update, which would provide a better user experience. Hopefully, these instructions help someone connect their UPS in the meantime, to enjoy the benefit of graceful shutdowns during power interruptions.