Microsoft Ignite 2021 – Day 1 Quick Recap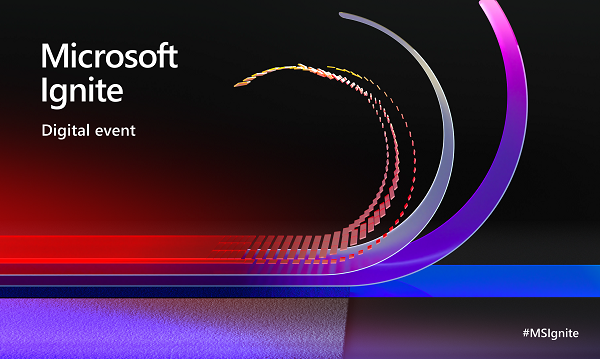 Microsoft kicked off the first of two Microsoft Ignite events they plan to host online this year instead of in-person events. For the first day, I focused on primarily the keynotes and Teams or Security related panels.
From the immediate outset it can be seen that Microsoft was serious about the feedback from last year's events and made improvements to further benefit the overall online experience. One of the immediate improvements I noticed was the ability to shut off the reaction overlay on the stream which my work laptop greatly appreciated.
While I will be making a broader post of all the awesomeness of Microsoft Ignite, here are the highlights from Day 1 that I viewed. There's plenty more that I wanted to see and much more I have to catch up on over the next few days. If you aren't registered, go register and add things to your digital backpack! https://ignite.microsoft.com
Notable Announcements or Mentions
The keynote took on a whole new "virtual" experience, with the ability to join in using AltSpaceVR as part of their announcement of Microsoft Mesh! It was an amazing experience. Plus, watching them run Pokémon Go on the HoloLens? Now that would get me back into the game. The initial reaction to the VR experience had people wondering on social media… Was something in my coffee?
Click Here to view the full keynote with the VR announcements.
A new challenge approaches! Microsoft has started a new learning challenge that runs through March 30th. If you complete it, you get one free Microsoft exam attempt! Get the details here: https://csc.docs.microsoft.com/ignite/registration/March2021?ocid=AID2423380_TWITTER_oo_spl100001875637709
Microsoft also featured Microsoft Viva, an employee experience platform that integrates with Teams to help you build social capital and culture! Learn more at: https://aka.ms/viva
So beyond the keynote, here's a breakdown on the two core things I focused on viewing today, which was around Microsoft Teams and Security topics.
Teams Specific Notes
Teams announced End 2 End Encryption! Learn more from this Forbes article.
You can now breakout rooms from a Teams meeting to help run courses or similar events.
You can now control the visual experience further by being able to pin who you want shown on the screen.
A new feature called Standout that brings the presenter to a more prominent position so you can see the presenter and more importantly, their body language. An overlay feature and aside feature was shown.
A new Webinar experience that allows you to setup a registration system, and mix both internal and external users. You can have up to 20,000 attendees, or up to 1,000 for interactive sessions.
Additional new hardware is coming out such as intelligent speakers, that work in conjunction with Cortana to enhance audio and transcription features. One such enhancement shows the picture and the name of the person who spoke in the transcript.
Casting to screen features is coming soon to Teams.
You can make an immediate call through voice commands that can drop in on users as if you went to their desk. (I'm not so sure on that feature yet).
Security Specific Notes
Microsoft Security released a comprehensive report in September regarding a lot of the security concerns facing our digital world. You can view it at: https://aka.ms/DigitalDefenseReport.
There's been an increase in APT attacks from Iran, North Korea, Russia, and China.
You can better secure your AWS and Google Cloud instances in addition to your Azure instances now through Microsoft Security tools.
Microsoft processes more than 8 trillion threat signals a day.
Passwordless Authentication is now generally available in Azure AD. This can be employed through FIDO2 keys, Windows Hello, and Microsoft Authenticator.
A new feature called Access Pass, allows you to provide temporary codes to users, so they can re-establish authentication with their devices or update their passwords.
New Threat Analytics are a part of Microsoft 365 Defender.
You can now co-author or edit Word, Excel, and PowerPoint documents that are protected by Microsoft Information Protection.
DLP features have now expanded to Microsoft Edge to help control what gets shared on the web.
Azure Purview was announced which allows you to handle data governance on-premises, in the cloud (including AWS, Google, and other supported services), and SaaS apps.
A new feature called Insider Risk Manager Analytics allows you to scan your tenant audit logs to identify potential insider risks.
4 new security Certifications to help validate and expand skills.
So that's the summary of my experience today, with more posts in the coming days. What did you enjoy most of the first day of Microsoft Ignite this year?