Reviewing the Mountable Bestek Power Strip with USB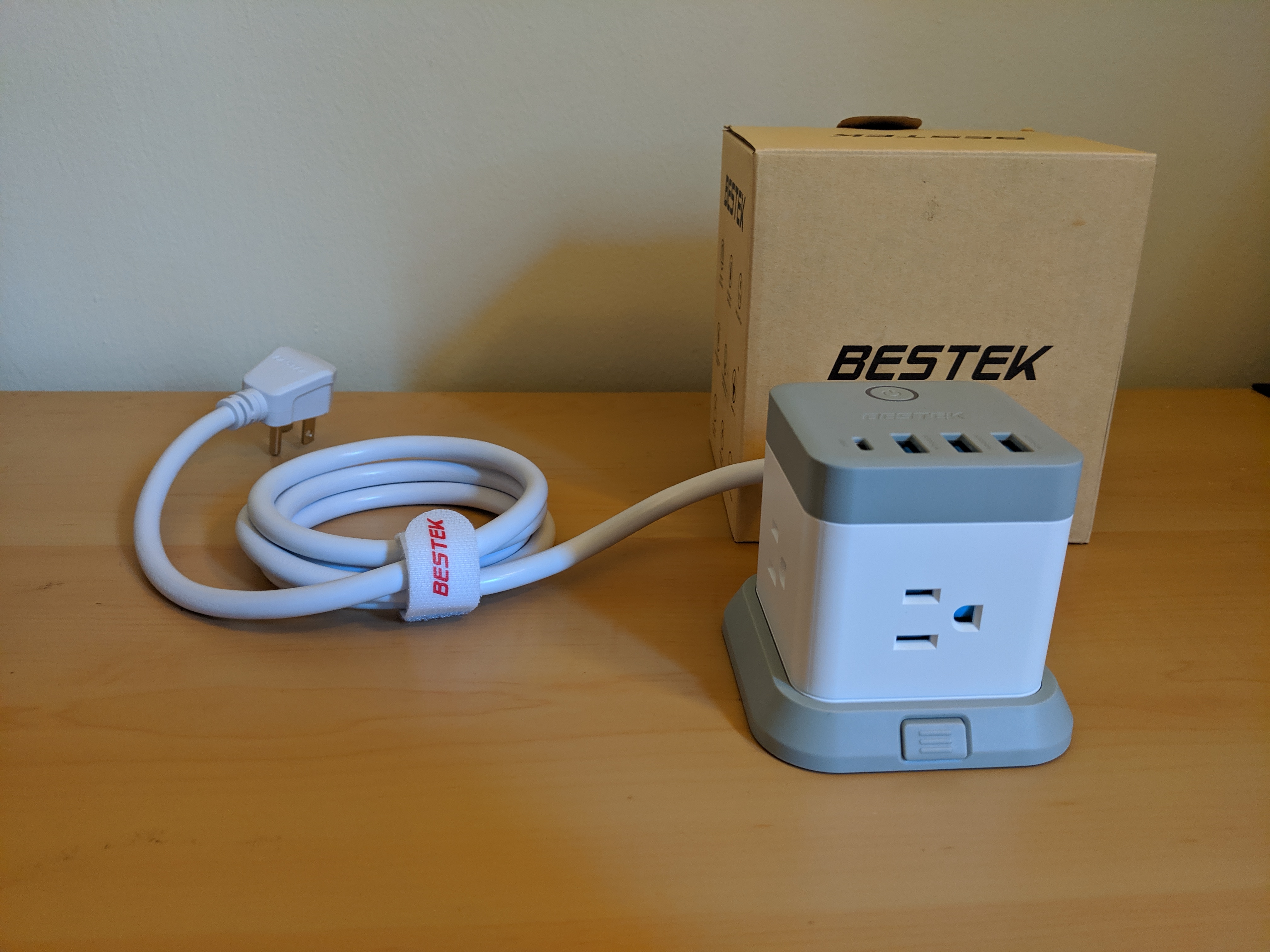 A high quality, well engineered product that offers you three plugs in varying directions, three standard USB ports providing 2.4 amps, and a USB C port that provides up to 3 amps and 15 watts of power. It's quick to mount and can be detached when you need to move it around, then return it to it's base in a snap.
I've been on the hunt for a desk mountable plug solution that includes USB ports and wanted to spend under $50 for it. At first, the options were either attached to a clamp, went into a pre-drilled hole in your desk, or didn't have any sort of mount options, or at least, didn't feature it.
Then I came upon the BESTEK Power Strip with USB in a mountable cube style. Could this be it? It's mountable, detachable, has the right amount of ports. The product feature photo that showed it attached under the desk sold it for me. While I have not had any experience with Bestek, I didn't find many other brands I was familiar with and it had some decent ratings, so I decided to give it a try and ordered it.
As you can see, here is what this particular model features:
3 outlets in different directions with safety shutters.
Three 2.4 amp USB ports and one 3 amp USB Type-C port serving 15 watts.
LED power switch / button (Turns USB ports on and off).
Over voltage, short circuit, over current, and overload protection.
Mountable via included 3M tape strip or screws.
For my setup, I wanted to mount it right under my desk so I'm no longer stretching across my desk or having more cables going across my desk if I didn't need to. I was able to adhere the cube to my desk and begin using it in under 5 minutes.
So if you're on the lookout for a similar solution, I think you'll be impressed with this product. Get yours from Amazon by clicking below!
Clicking on the link below may provide us with a commission from Amazon, which helps us continue to provide you great content and reviews.
BESTEK Power Strip with USB, Vertical Cube Mountable Power Outlet Extender with 3 Outlets, 3 USB & 1 Type-C Ports, 5-Foot Extension Cord and Detachable Base for Easy Mounting