Can You Skill Up with ITPro.TV?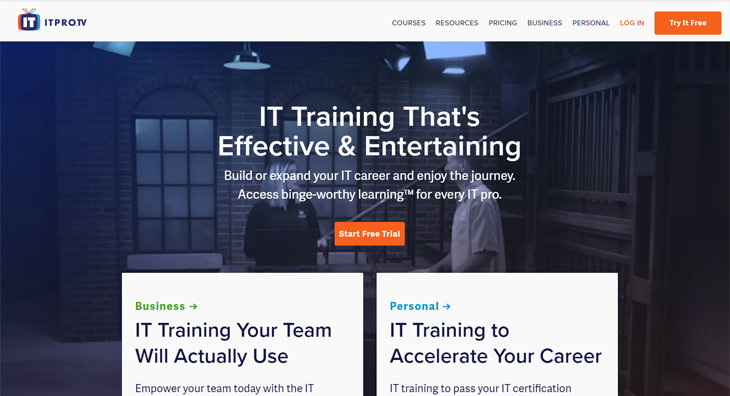 Whether you are just starting out as an IT professional or a veteran of the industry, continuously learning is essential to our success. Even today, finding decent and affordable training for teams and companies can be hard to find. While there are many options out there, their quality varies significantly. So how does ITPro.TV stack up?
My Experience with ITPro.TV
First, I want to share my personal experience with ITPro.TV. I joined as a member after hearing about them through the Windows Weekly podcast I believe, on the TWiT network. Their offering stood out for several reasons to me:
They offered the ability to download (with an annual subscription)
They provided access to practice labs.
They provided practice tests.
So in June 2018, I began using ITPro.TV as a means to supplement my existing training regimen toward obtaining several certifications. Though in September 2018, just a week before Microsoft Ignite, I had the urge to pass my MCSE – Productivity exam since testing was being offered on-site. So I loaded up the videos on ITPro.TV for the 70-341 exam that focused on the core components of Microsoft Exchange. While I've administered Exchange for over 10 years, it's been sporadic. After binging the videos, I scheduled the exam, and passed.
Since that initial win, I've gone on to rely on ITPro.TV's training to supplement my college's resources, along with gaining additional Microsoft and CompTIA certifications including more recently, my CompTIA Security+ certification in just shy of 2 weeks.
For me, I feel what I appreciated about the approach of ITPro.TV's training is that the videos kept me engaged because they were short, provided the right amount of detail, and the edutainers were engaging. Many times they showed visually how to do something in a test environment, and if you weren't sure about it, you could supplement that training through live labs.
Testing the ITPro.TV Platform with a Local Business
After my personal experiences with ITPro.TV, I wanted to see if lighting could strike twice. I knew of a local company's training department that was looking for something better than their current training provider. They had some major pain points with their current provider. The content wasn't engaging, it wasn't technically complete, and staff often had to supplement the training modules with other resources. The situation was not ideal for a company looking to stay competitive, so we developed a training pilot.
Over the course of 60 days several members of their staff from various departments started using the ITPro.TV content. In the end, they all felt that it provided a more comprehensive educational experience. So what was the feedback we got from those in the pilot?
ITPro.TV provides the tools needed to help successfully pass a certification.
The website is well put together and easy to navigate.
The material is well presented and thoroughly covered in a way that is easy to understand.
They enjoyed that they give you show notes for each video (when applicable) with step by step commands for you to follow along.
The labs are an absolute life saver.
The practice tests help you prepare for what you may see on the tests and helps alleviate some of the anxiety that surrounds the test day.
The features that allow you to speed up or slow down the playback of the content are great.
"Nothing in comparison to what we have right now. "
One of their trainers summed up the thoughts of the group in one sentence… "I feel that ITPro is the best certification preparation tool I have seen to date. "
So if you are searching for a new training system for your business, or looking for a great, nearly all-in-one resource for you to continue advancing your career, take a look at ITPro.TV. Thanks to the team at ITPro.TV, we are able to extend an offer to get 30% off for the life of your membership by visiting: https://go.itpro.tv/syntaxbearror or by signing up with the promo code SYNTAX30.
Do you want to share your ITPro.TV experience? Share it in the comments below!
Author's Note: I was not paid by ITPro.TV, or any other firm to write this article, though we do get a financial incentive for each user who signs up using our promo code or link, which allows us to keep running. As an active customer of the platform, I wanted to share my experiences in hopes it can help others looking for a better training solution to better their career.